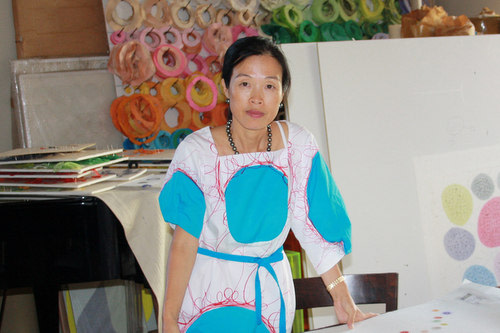 Minjung Kim was born in Gwangju in the Republic of Korea in 1962. From the age of six, it was her family's wish that she study painting under various teachers, including the famous watercolourist Yeongyun Kang, and, between the ages of thirteen and twenty-nine, Oriental calligraphy. In 1991 she decided to move to Italy and enroll at the Brera Academy in Milan where she studied the works of Western artists who, during the 20th century, studied and practiced Asian painting. Minjung currently lives and works in the South of France and New York.
Her solo exhibitions: Luxembourg & Dayan Gallery, Palazzo Caboto, Venezia; Fondazione
Palazzo Bricherasio, Torino; Museo comunale, Ascona; Museum Sbygningen, Copenhagen, Henry Moore Institute, Leed; Guanshan Yue art Museum, Shenzhen; and Macro - Museo arte contemporanea Roma.